Whole body magnetic resonance imaging (MRI)
To expand the range of exams we provide, Medical Company ARS branch – ARS Diagnostic clinic is offering whole body magnetic resonance imaging – Whole Body MR imagin with 3T MR equipment Philips Ingenia 3,0 T
.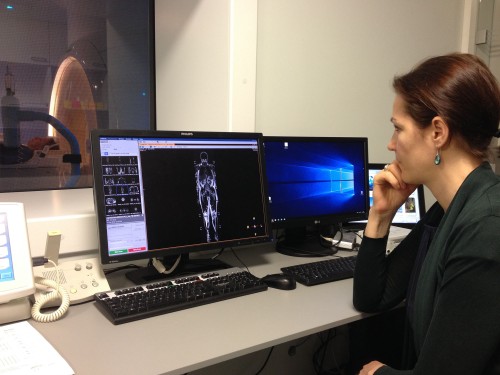 What can whole body magnetic resonance imaging with 3T MR equipment Philips Ingenia 3,0 T be used for?
Whole body MRI is useful for:
patients with known oncologic illness or lymphoproliferative system illness for example lymphoma. It is used to assess the exact stage of the disease, the extent of the process, the effectiveness of the treatment and to control the course of the disease;
people with cancerophobia – a fear of being afflicted by cancer;
busy people who value their time – magnetic resonance screening in the quickest possible time helps evaluate the state of their health without being admitted to hospital.
Fast, precise and harmless examination                                  
Our Philips Ingenia 3,0T is Latvia's only Premium class digital 3 Tesla equipment which, thanks to the wide range of software support and a string of technological innovations, can provide fast, very high-quality and precise examinations. The resulting digital image resolution is much higher and this factor facilitates accurate diagnosis.
Magnetic resonance is a contemporary, benign imaging exam which, unlike X-rays and computed tomography scans, does not use ionizing radiation.
During an MRI exam important information is obtained in order to evaluate the brain, the entire length of vertebral column, thoracic, abdominal and pelvic organs, large joints and soft tissues.
In order to evaluate the stage of the disease, patients with suspected malignancies are often referred to do various exams, such as ultrasonography, X-rays and CTs. This is time consuming, expensive and burdensome for the patient. MRI exam provides all the necessary information in one sitting.
Important:
Exam results are digital so they can be forwarded to your doctor.
Regions evaluated during an MRI screening:
Musculoskeletal system – largest joints: shoulder, hip, knee and foot joints, soft tissue and muscles.
Brain and spine full length.
Thorax, abdominal cavity and pelvis – mediastinum, armpits, abdominal cavity and pelvic organs and lymph nodes are evaluated.
Contrast agents are not used during the examination. If any abnormalities are detected, a follow-up exam is recommended to look at the particular zone to evaluate the changes seen in the screening in greater detail.
For your knowledge:
Magnetic resonance screening exams are referred by a specialist doctor, however, patients can chose to do them without a doctor's referral if they wish to check their health status.
How is whole body MR imaging screening with the 3 T MR equipment Philips Ingenia 3,0T done?
The MRI exam is carried out on the whole body – from head to toe. The exam can last up to 60 minutes.
Patients have to lie peacefully, without moving in order to get the best quality images. Images will then be examined by several specialists (radiologists).
Examinations are carried out in our new ARS Diagnostic clinic using the first fully digitalised magnetic resonance equipment in Latvia – the Philips Ingenia 3,0T with a magnetic field strength of 3 Teslas.
Three expert conclusion
Exam images are analysed by three different speciality diagnostic radiologists who are professionals in their field:
USEFUL INFORMATION
MRI cannot be carried out on patients with fitted pacemakers, nerve stimulators, various metal implants (except titanium) or separate metal foreign bodies (e.g. inner cochlear implants and artificial valves).
Whole body MRIs are carried out at the ARS Diagnostic clinic a branch of the Medical Company ARS.