Echocardiography is an ultrasound (US) test method, which allows detecting congenital and evoked heart diseases, to evaluate the condition of the heart structure and its functionality. The method is harmless, painless and highly informative, it can be repeated, if necessary.
Echocardiography refers to one of the basic examination methods on all occasions, when heart diseases are suspected:
Auscultation of the heart, audible noises;
Damaged heart valves (congenital or evoked heart diseases);
Damaged heart muscles (cardiomyopathy, myocardial infarction, coronary heart diseases etc.);
Heart failure;
Arterial hypertension;
Heart rhythm disorders;
Systematic diseases affecting heart (systemic lupus erythematosus, rheumatisms etc.) and in many other cases.
By applying the cutting-edge, Premium – class apparatus supplemented with Doppler options, at our clinic this examination is yet more informative than examination performed using standard apparatus: a possibility to evaluate better the blood flow in the heart and large blood vessels, as well as to evaluate finer nuances of structural changes.
The examination is performed by experienced cardiologists, specialists in ECHO: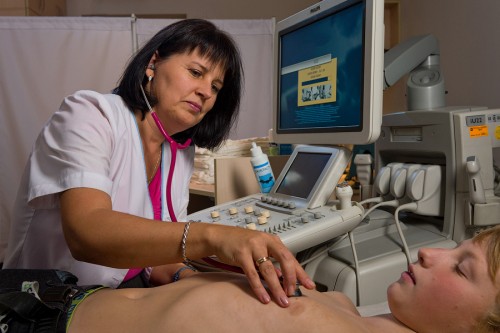 For children the examination is performed by BKUS cardiologist MD I. LUBAUA.
Echocardiographic examination is performed by: