Medical company ARS pays special attention to children's health. The newest addition to our list of procedures is an magnetic resonance imaging (MRI) examination for children as young as 8.
Our new ARS Diagnostic clinic carries out high precision diagnostics with the first fully digitalised magnetic resonance equipment Philips Ingenia 3,0T which has 3 Tesla magnetic field strength.
Digital precision
In comparison to other magnetic resonance equipment available in Latvia, the new MRI equipment Philips Ingenia 3,0T is the only Premium class digital 3 Tesla equipment, which provides fast, very high-resolution examinations. The quality of the resulting digital images is significantly improved, helping to determine the diagnosis more clearly.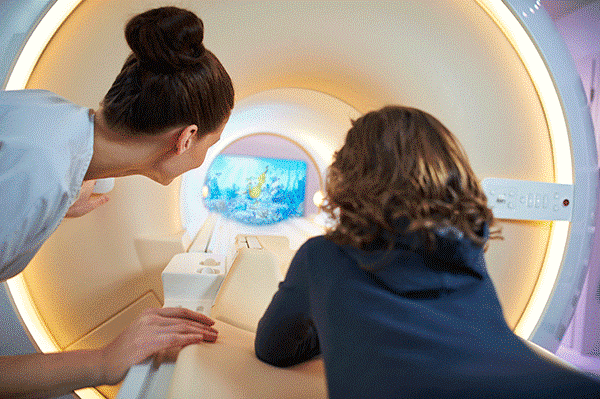 Examination opportunities
With Philips Ingenia 3,0T it is possible to examine:
the brain and spinal cord,
the abdominal cavity and organs located in pelvis,
bones, joints and muscle systems,
eyes and ears;
cardiovascular systems, etc.
The PHILIPS Ingenia 3,0T MRI system has a special program for diagnosing cholesteatoma (otitis media complications).
Anaesthesia is not necessary for this examination!
The Philips Ingenia 3,0T has an enlarged gantry (the aperture of the magnetic field cylinder where the patient lies during the examination). Its wide aperture facilitates examinations where a patient's mobility is impaired due to pain and it is difficult to lie down in standard projections. The equipment can be adjusted to allow examinations to take place in the position that is most comfortable for the patient.
During the examination the acoustic noise level is reduced by more than 80%.
This contemporary equipment is fitted with Ambient Experience system – soothing music is played during the examination accompanied with a light display. It is even possible to watch a cartoon. The entertaining environment reduces patient anxiety, allows them to feel comfortable and makes the examination feel shorter.
For your knowledge!
Magnetic resonance imaging is one of the most precise and informative diagnostic methods. With the help of magnetic field and radio waves it produces high quality whole-body and organ cross-sectional images in three planes in one sitting; without harming the body.
Useful information:
 MRIs cannot be carried out on patients with fitted pacemakers, nerve stimulators, various metal implants (except titanium) or separate metal foreign bodies (e.g. inner cochlear implants or artificial valves).
Important: Magnetic resonance imaging exams need to be referred by a specialist doctor.
We offer both government programme (quota) subsidised and charged examinations.
Examinations are carried out by:
MRI examinations for kids are carried out at the new ARS Diagnostic clinic part of the Medical Company ARS: